Are You Planning on Playing Strip Poker?
Last night while I was out with some of my friends I saw a girl with a silver sequined mini dress on, blue tights, and black flats. Normally I would get incredibly excited at the sight of this (and a little jealous too, who doesn't want a sequined mini dress?) but not this time (why would I be telling this story?). No, this girl had on that amazing ensemble and...a black corset. I was confused and shocked and didn't know what to say. She was wearing a dress with sequins on it! What more did it need?
This tragedy of an outfit is a perfect example of people layering too much. I see it all the time now. Calm down people! You do not need to wear all of your clothes at once. Do you really need to wear yet another shirt? I do not think so. I think there should be a mandatory 2 shirts maximum rule put in place with a clause about sequined and other embelished tops stating that you do not layer those (unless it's kinda see through and you have a tank top on underneath). Of course, sometimes more than two layers can look fine but people just get so carried away nowadays and end up wearing 5 shirts. Maybe we should only have the rule for the next 3 years, I'm sure after 3 years people's senses will come to them.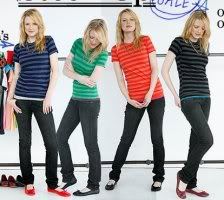 picture from Urban Outfitters.