For Those Hot Summer Nights
This morning I got a strange urge to start knitting so I looked all over my room for my knitting bag (hey, it was the cool thing to do when I was in 6th grade. we would knit and sing sk8ter boi) and started work on the most pitiful purple scarf ever. Which is why I'm showing items that could very well be knitted that you would look lovely in for fall. Really, August starts tomarrow and then it's September. I'm excited.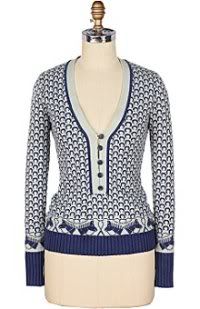 When I went to Ireland in the first grade I wore a green sweater that was a lot like this with my purple fuzzy pullover. I was all about the layering. And it was as heinous as you can imagine. Anyways, when I went to Anthropologie a couple weeks ago with my Mom (that was a bit of an event because I have to go all the way to Washington D.C. to go there) I stared at this sweater for about 5 minutes. Which is amazing because I used to think I had ADD. Honestly though, it's the perfect cold weather sweater. It makes me want to go to a ski lodge and sit in front of a fire, of course if I wore it right now I would probably sweat so much it would slip off of me.
$128
.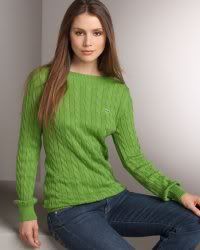 Okay, the only reason why I made this post is because I really, really like that sweater from Anthropolgie. But I'm just going to post my favorite sweaters now. Like the Lacoste sweaters. I don't understand how anyone on Earth could not love a Lacoste sweater. Even when I was going through my weird grungey phase I liked them. They're as comfortable as a sweatshirt but not ugly. This one's a bit more stylized and has a bateau neckline. Which means it's more expensive than the classic sweater,
$135
from Neiman Marcus.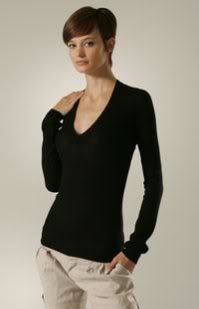 I've kind of gotten off the knitten path (hahaha, oh you know you think I'm funny) but I can't not mention cashmere v-neck sweaters. I used to have a million of sweaters like this in different colors but one winter I took them out of storage and they all had little holes in them. That was one of the darkest days of my life. Really though, if you have a closet full of sweaters like this you always have something to wear that's a little more dressed up than a t-shirt and jeans. Ya-Ya cashmere sweater,
$286
.