The Sad Thing is That I'll Probably Like the Clothes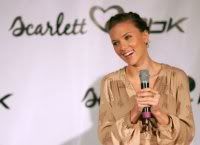 I was reading the
Vogue Dailies
and saw this article:
Following our report last week that we were expecting an announcement any day, Reebok confirmed yesterday that it has signed a multi-million pound deal with Scarlett Johansson who will act as the new face of the brand. As well as starring in a new global ad campaign, Scarlett will design her own line of retro-inspired sportswear and footwear, which will be available in the spring next year. read more

I love Scarlett Johansson but I'm sick and tired of celebrites "designing" clothes. Enough already! I get that everyone wants money. I mean, I would love some extra cash but you don't see me doing something that I am completely underqualified at for money. I do it for free.