It's Time for Reader Questions!
I'm so productive, I painted the shutters on my house and then I sat on my butt for an hour and a half (maybe?) and watched Diva. This is what my life is like during the summer.
All right that was a bit of a lie, I do go to concerts and whatnot but for the most part I plan my day on how to stay in air-conditioning.
Here are your questions, because I don't have to leave my nice cold room to answer them.
leith, i seriously need your help!...my school is getting standardized dress (aka khackis and polos) for the first year ever and i cant find any way to look original or any brands that fit right :[
-Aimie
What is it with school's these days? This is the second question I've gotten on this matter. Try
this
but I might as well elaborate. You can look original by adding jewelry (skip the pearls for gold bangles, layer necklaces, etc.) or wearing a sheer polo with a colored tank top underneath. If that's not allowed then petition. Seriously, petitions are your best friend. I once convinced my mom to not go to my normal Friday night hangout by using a petition. I also suggest going crazy with your shoes. Can you wear sweater-vests? Just add interesting things to your outfit and if you get in trouble for violating the dress code just explain that you are following it, because you're wearing khakis and a polo. Have a sit-in if you have to. People do that all the time at my school.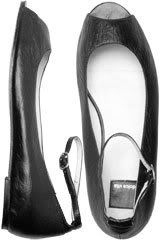 I relise you get many many many questions from people asking you for style advice so if you dont have time to answer this I'll understand. Anyways, I've been serching for atleast a month now for black flats, preferably peep toe and kinda summery with no luck. They would go with more than half my wardrobe but somehow what I thought to be a very simple staple item just doesnt exist! Would love some sugestions.
-Grace
I need to start suggesting stuff from stores other than Urban Outfitters. Oh well, the shoes on the left are on sale at
$49.99
. However, they're kind of boring. But, I'm sure with the right outfit they could look quite daring and chic.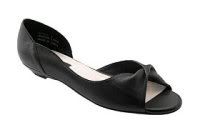 Like if a prostitute wore them, that would be super interesting. I'm doubting that Grace is a prostitute though. That would be cool, you know, a prostitute named Grace who wrote me for fashion advice. Anyways, I like these shoes on the right much more. These are the kind of shoes that I would end up wearing everday and then people would say to me "Don't you have normal shoes?" because that's actually happened to me. N.Y.L.A. Charli flats are available at Nordstrom's for
$64.95
.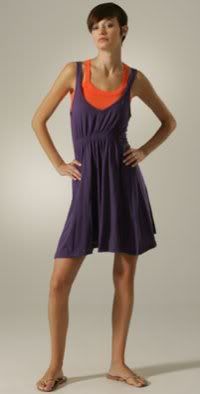 I am starting to have a freakout. I'm going to a sleepaway camp for a week and they're having a dance at the end and I have nothing to wear. I have searched everywhere. The camp starts saturday, august 5th. In 1.5 weeks! even worse, I'm on the thirteen year old budget of $10 allowance a week and I only have about $100. I need a skirt and top or casual dress. What do I do??? HELP!
-Tyler
Calm down! Hardly anyone dresses up for camp dances. The nicest outfit I ever had for one was a black skirt and cotton red halter top. I ended up ditching my shoes for flipflops by the time the dance even started. You'll be fine in just a denim skirt and a cute top which you probably have thousands of. Of course, you can get a little bit more dressed up (and who doesn't want an excuse to buy something new?). Something like this purple C&C California dress with black heels and some long gold necklaces look would lovely (that orange tank top isn't part of the dress). The dress is available in white, black, and madame (the color shown) for
$68
but poppy, slate, bonnet, battlefield, and oaks are on sale for $47.60. Don't worry about spending basically half of your money on a dress though, you are bound to wear this thousands of other places. And you can probably get a dress just like this for much less at Forever 21 and the like.