Put Your Feet Back Down on the Ground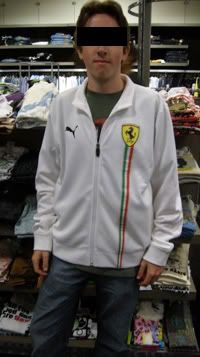 Someone wanted men's fashion, I don't know men's fashion.
I was at the mall with my best friend's boyfriend the other day and tried to get him to buy this (right) jacket, he refused, but the manager tried to give me an application (jokingly, but still). He kept on shouting about it being $92 but it looked great on him.
I don't understand how the majority of boys I know dress, but really this outfit is fantastic. If only it was what he actually wore (he has come a long way though, it used to be just awful).
I do have two guy friends with all around great style, Gerry and Eric (left).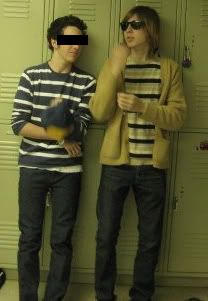 Eric's wearing real Ray Ban's, not the knock-offs that recently showed up at Forever 21 (seriously, that store has taken over this little blog) and a Lacoste sweater he found at Goodwill. Actually, most of his clothes are from his mom's closet or Goodwill but he pulls it off amazingly. But he's an indie kid like that.
That picture doesn't really showcase Gerry's style as much as this one does on the bottom. A lime green t-shirt,a charcoal and purple striped cashmere sweaterand $2 sunglasses from Italy are a perfect mix. I know for a fact that Gerry really works on his style (he constantly calls...everyone asking what he should wear the next day) but there's no shame in that, he looks fly. Now I just feel kind of creepy making a post about my guy friends. I'm done.