ALL THE HOT CATS ON THE BLOCK!
On Friday I got my bangs cut straight across and today I put on pink lipstick (not frosted or anything like that, but pink nonetheless).
I do believe that the 90's are officially back. I mean, every one's been talking about it for ages but have you taken a look at this month's W or Vogue? I swear I saw shoulder pads.
Anyways, I have to confess something. I have been avoiding the internet. I haven't even check my e-mail. Whenever I go on the computer it's because:
A) facebook.
B) some one imed me. Not that I actually im them back. I generally go back to watching 90210
C) spider solitaire has taken over my soul
I am so afraid of accidentally reading a Harry Potter spoiler. It has happened to people I know. What's even worse, is that I'm not reading the book until Friday. Why? I have a 14 hour flight to Australia, what else would I do on it? Which means, that until August 13 expect few, if any posts. In the mean time, here are some big bags I enjoy.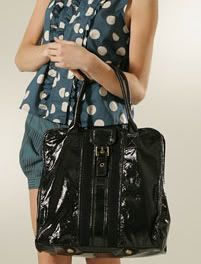 Ever since I was a wee little one I have had a love for black patent. Well, actually shiny things in general, but you get my drift. This is basically everything I want in a bag, big enough for a book, a journal, and a magazine, with pockets for lipgloss and other essentials. Marc Jacobs, why must you tease me so?
$388
.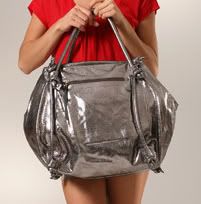 I have seen silver shirts in 3000000 stores lately and have resisted buying all of them. I don't care what the "Color Me Beautiful" lady at the Chanel make-up counter says, I do not look best in silver. Well, okay, I might, but still I already have a silver bikini and shirt I bought at
Annie Creamcheese
last year. Well, anyways, I doubt you care about that. This bag is legitimately awesome, there is no doubt in my mind. Once again Erotokritos has me smitten.
$782
.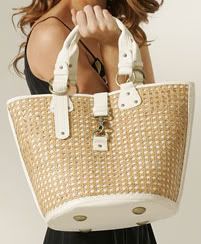 Baskety bags are so springy and fresh and lovely that I can't help but love each and every one. This is no exception especially since it's large (like I said earlier, I enjoy my reading material).
$206.50
ON SALE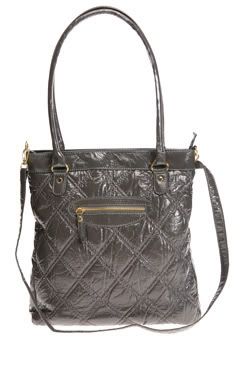 Chanel will always be remembered for popularizing the quilted bag, Urban Outfitters for hipsterizing it. Still, this is a tote, it's attractive, and it meets the criteria for this post (I enjoy it). And I may even buy it.
$38
.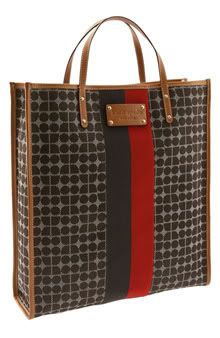 Normally I find Kate Spade to be pretty boring and just not that great (good quality, wouldn't buy it though). But, as far as basic totes go this is basically right on target for greatness.
$275
.
I will always, always love canvas bags and Lacoste is one of my favorite brands (silly, I know). So, naturally, I adore this bag. Notice how the bits I have written about each thing got shorter each time.
$200
.
Labels: bags