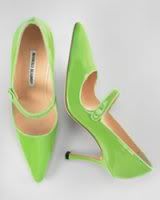 I know everyone's known about Manolo Blahnik's mary jane's forever but these are still my current shoe obsession and this is coming from a girl who hates pointed toe shoes (they are growing on me though, I have a pair of red pointed heels in my closet).
Something about the shiny lime green, the white outline, and the naughty secretary shape make me crazy for it. Besides, this colour is perfect for Summer, especially if you are working. Can't you just see some big lawyer's secretary wearing this to work? Okay. I would wear them if I was a secretary. In fact, I would wear them if I was anything. Nevermind the fact that they cost
$485
. Don't you just love
Manolo Blahnik
?
My birthday is in December. It's not too early to get a birthday present, right?