12.25.2005
12.18.2005
X-Mas
I just realised that I completely forgot to go Christmas shopping for my school friends, which means they are all getting their presents after Christmas (most likely) which is horrible and everything but whatever. I'll give them lollipops as a temporary gift. But, in the spirit of giving and whatnot here are some items that I think would make some FABULOUS gifts (HINT HINT!! every one has asked me what I wanted and I couldn't think of anything but look at this okay!).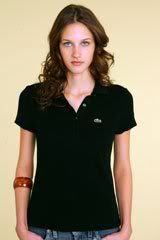 I used to hate polos. But then I noticed how cute my friend Emma looked in polos and I saw this polo at BP. Maybe it's the little goth kid inside of me that likes it but I really do want it. It's
$70
at Urban Outfitters.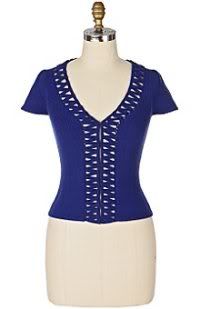 I'm kind of...obsessed with sweaters. I wear them all the time. But I'm ridiculously picky about my sweaters. This one, of course, fits the bill. And, of course, it costs
$88
. Don't you just love me?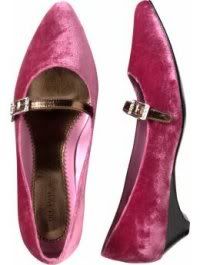 I know these kind of look ugly in the picture. BUT THEY AREN'T. There's something incredibly festive about velvet, don't you think? And the fact that Old Navy makes them is just too funny. But, Old Navy actually has some pretty amazing shoes. I got some pointed toe tweed shoes there in September while my Mom was buying groceries. Which is impossibly cool. What's cooler? They're only
$19.0
.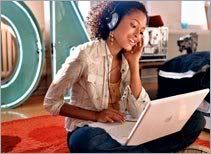 That girl has a laptop. A shiny, white, NEW laptop. And I know for a fact that if you give this to someone for their 15th birthday they will NOT ONLY cherish it forever and never spill drinks on the keyboard or have it not functioning for 3 days because dust got stuck in it, but they'll love you forever. You can buy it online at
The Apple Store
. Because some people deserve computers that were made after 2000.
12.09.2005
You're a Needy Girl
Shoes! Parties! Winter!
It is, finally, my favorite time of the year. There are so many parties and presents, and with parties and presents come shoes that you
must
wear.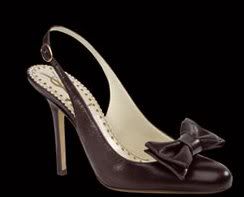 A classic leather slingback with a classic big bow. This is Christmas in shoe form. But not as annoying.
YSL
es mi amore.
Honestly, how adorably party shoeish can you get? It's crushed velvelt. It's metallic. It's got an ankle strap. Madonna even loves the brand. I love Madonna. This Bronx velve "court" shoe is
$76
.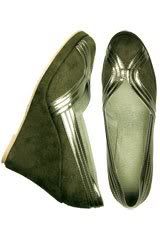 Woohoo!! It's not an obnoxious green but it's still a Christmasy green. And it's an oh-so-trendy-but-actually-comfortable-wedge. Which is cool. It's
$58
at
some place
called Urban Outfitters.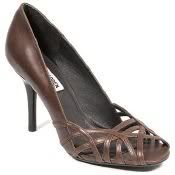 Did you know that Steve Madden went to jail? Yeah. Neither did I. He got out a couple of months ago (maybe?). But, I know it's a stretch, I like to think that the bars to his cell were the inspiration for this shoe. In fact the description says, "You'll be cage dancing in this hot leather pump 'til dawn." I'm sure he will.
$79.95
.