Since Fall Has Decided to Be Winter
So I went to the BP section of Nordstrom's website looking for some coats I can beg for from my relatives and found 3 lovely ones.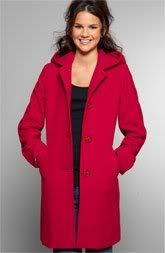 It's called a CandyButton Front Hooded Coat, aka a pea coat with a hood. Doesn't it look so adorable and warm? And it's bright enough that I might not get nearly run over on my walk to school. It's by Rampage and is
$128
.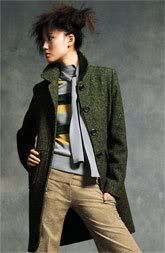 It's got a Peter Pan Collar, it's green, and, oh poo. It's unavailable. But if it was it would be quite fabulous and would look adorable with an a-line skirt and some ballet flats. It's by
Frenchi
.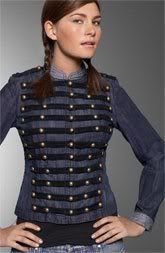 Apparently Jessica Simpson makes clothing. I was really scared when I saw
Princy by Jessica Simpson Marching Band Jacket
above this jacket. Hopefully it's some other Jessica Simpson. Anyways, it's quite a cool jacket. I don't think I would ever wear it considering it's denim and I wear jeans most of the time but it's really fun looking. And kind of goes with the other jackets I've talked about. It's $89.