A Must Have for Life
Recently I was in my school's Spring Dance Concert, where all the dance classes perform a dance and people go "ooh you guys are so talented!" So, my class had to wear black gouchos, tank tops, and white shirts.
Black gouchos.
Yeah, but what hurts even more is when I suggested we just wear black capris some moron said, "I don't know where to buy black capris!" I was so in shock that I couldn't say anything. Unfortunately we ended up dancing around to Linkin Park wearing black gouchos. I feel so sorry for every one that watched.
Anyways, here are some black capris/cropped pants/knickers/whatever.
They're basic! They could have been worn by the Pink Ladies and then again by some modern day starlet (baaah). You would think something so basic wouldn't cost
$225
though. I love Theory anyways though.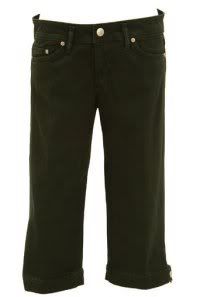 I was at South Moon Under with my mom looking for gouchos when I saw these and tried to force her to buy them for me. Which she did not but whatever, they're still damn fly (and
$129
). They're cool because you can cinch them up and all the buttons lead to hours of entertainment in government class.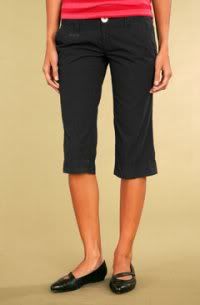 Ever since I bought a pair of Miss Sixty skinny jeans with zippers on the sides I've been in love with their pants. These are really similiar to the Theory capris, but only
$89
and with a sweet button.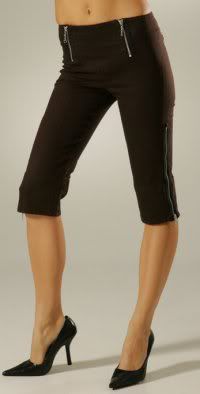 I have to say, I tend to like Marc by Marc Jacobs more than the regular Marc Jacobs line. So, it's only natural that I like the Marc black cropped pants. With zippers all over too! I don't know why I love these zippers maybe it's because there's something incredibly rock and roll and nonesensical about them. I think that's it. Wear these with a leather jacket a white wife-beater and I'll be your best friend.
$178
.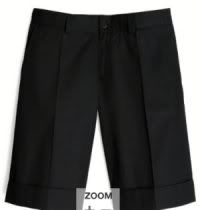 I read the DaVinci code and imagined all the characters in it wearing clothes from A.P.C. Even the crazy guy with leg braces. Anyways, A.P.C.'s black bermuda shorts are amazing. They make me want to run around Europe looking for the holy grail.
$151
.